To be friendly toward the environment, its people, and its future;
We will continue putting all our efforts into what we can do now, what we should do now.
Convenience, health and the environment of our planet.
We often take these for granted and only realize their importance after we have lost them.
Daito is actively tackling environmental problems and sustainable resources, developing resource recycling systems and putting thought and effort into making products that would help sustain a good living environment for our children.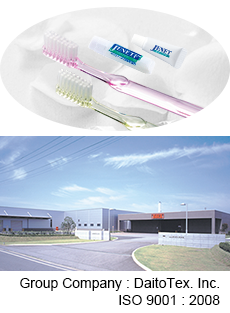 As an expert on manufacturing toothbrushes, Daito supplies the best toothbrushes available.
Daito is serious about our quality control, and providing safety and comfort to our customers.
Toothbrushes play an essential role in everyone's hygienic and healthy lives.
Everyone wishes to use "trusted products" to brush their teeth.
At Daito, the whole manufacturing process is done in our own, domestic factory, making it possible to produce the highest quality products.
Our products also undergo very strict quality control to enforce safety.
We will continue to offer products that all of our customers can use with absolute peace of mind.